Quality English School in London
Are you looking for a good English school in London?
We are pleased to share with you this news: Link School of English in London has been awarded The Quality School Award 2014.
---
The renown Languagebookings.com is honouring the world's best Language Schools with the Quality School Award. This year Link School of English in London has received the certificate and been recognised as a Quality English School for its high quality standards in its range of language courses and students services.
---
Quality School Award
The LanguageBookings.com Quality School Award is granted to language schools with high appeal for international students, with an unbroken record of best value for money compared to hundreds of schools served by LanguageBookings.com. In addition, the schools show a high quality in education, course availability and impeccable customer service history.
---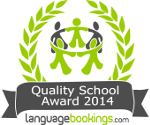 Quality School Award Certificate
---
Link School of English offers:
– General English Courses
– English Conversation Classes
– Academic English Courses (IELTS Exam Preparation)
– FCE Exam Preparation
– Business English
– Aviation English
– Individual English Lessons
---
You can book English Courses at English academy through Languagebookings.com – follow this link to visit our profile:
http://www.languagebookings.com/award-2014/link-school-of-english-london.html
or you can book directly with us – follow this link to find out about our English Courses in west London.
---
We look forward to welcoming new students to our English School!
---
More posts about our English language school:
5 Years of Link School of English in London
Take a Step Forward with Confident English – Free English Learning Event at English Academy
News from Our English Language Centre